After joining a local Mopar car club and starting to show off my 1998 Dodge Ram in local car shows I found myself wanting an older truck to work on and something different than all the Ford's and Chevy's that are a dime a dozen! I surely couldn't show up to the club meetings driving anything other than a mopar!! So in September of 2001 I was the winning bidder for this 1954 C1-B6 108 Dodge pickup truck via eBay for $1800. My wife and I had previously drove down to Portland, OR to look at it prior to placing the bid. After winning the auction, I decided that it needed a complete overhaul, although I knew NOTHING about the truck and had never seen one prior to my inspection of the truck. I knew it would be a great truck to work on and something to keep me occupied during the gloomy and rainy winter months! Little did I know that parts for these great relic's were few and far between and if found they were not cheap! I also found out this year of truck is a rare breed as it was the only year with this style cab (54-early 55) which makes it hard to find good body parts!!

The truck is a 1954 Dodge short bed, high side pickup with a 1950 P20 (Plymouth) flathead inline six cylinder engine. It has a three speed manual transmission with the column mounted shifter (3 on the tree). The engine had already been converted from 6 volts to 12 volts but had little to no wiring. The radiator leaked and needed replaced along with a new thermostat housing. The rear axle is stamped with 3.73 for the gears. The motor did run when purchased but the tranny would only go into 2nd and 3rd gear. It was fun trying to get it loaded on a trailer by myself on a hill (after running it out of gas the first time!). It made it's way home to WA state where I drove it off the trailer with a big smile and got it in the garage where it would spend almost a year being torn apart.

I starting tearing it down in late September and piece by piece starting cleaning it up. Below are some of the pictures of my progress. The gas tank was blasted inside and resealed, all steering and suspension parts were replaced with new ones (including the $600 steering box). The tires and wheels were yet another eBay auction for $400 (not bad, huh?). It has a new wood bed from Mar-K but finished it myself and had the strips powder coated black. The electrical system was completely rewired with a Painless fuse block and all new wiring that I did myself. I threw in a cheapo cd player and speaker box system behind the seat (gotta have tunes!). The truck was hand cleaned, sanded, wire wheeled and painted by hand! I used LOTS and LOTS of 3M abrasive drill pads and LOTS of various sized wire wheels to get them all. Every piece was cleaned down to bare metal and then primed and painted. Every nut and bolt has been replaced with new unless they were odd shaped or sized. Even then, the bolts, nuts and washers were cleaned to bare metal and painted.

2003 UPDATE:

I've been away from the project for a while as I get my 98 Ram supercharged and all sorts of other goodies stuffed under the hood. I'm now back on the 54, and have since learned to weld and done my own welding on the truck bed and door to fix up some of the screw holes from an assortment of different mirrors that were mounted over the years. The bed was already brazed at the rear seams and had cracked. That's now welding back (thanks Nick for the use of the MIG welder and the lessons!!). Now I'm working on the filler (using Bondo UV type) and doing the sanding with a orbital (DA) sander. I've also fixed the engine and it now runs perfect and will hit 55 MPH with no problem. Turns out I was missing the extra spring clip on the points and they were floating! It fires right up in the first stomp of the pedal. I'm hoping to get some paint on it by the end of the summer or early fall, then do the interior and other stuff during the winter months.

2004 UPDATE:

Just when I was ready to hand the truck over to a pro to finish the body work and shoot some paint on her, I have found yet something else to add to the truck that gives her the original look and is in fact the factory option. How does a 1954 241ci HEMI sound? This July I located a parts truck that has the original year 241 cubic inch Red Ram (baby) hemi and what is believed to be a 4 speed tranny mated to it. The engine is free and turns (still has fresh oil and antifreeze in it) which gave me a smile from ear to ear!!! So now I'm backing up or actually stopping with the body work and paint until I can get the hemi on a stand and go through it. I'm starting to look for HP parts that I can buy to boost the original 133 HP hemi gal up a few ponies and make it look nice. Pictures soon to follow below. I Guess I now know what color to paint the truck to make it a real Red Ram Hemi truck! Anyone need any 5 window parts?

I'll add more to my story as time permits, but wanted to get something up on the site other than pictures!


2005 UPDATE:

Well after almost selling off the truck I got inspired again and am making some major changes to my original plans for the truck. I purchased a freshly rebuilt 76 318 engine, 727 tranny and 8 3/4 rear to put into the truck. This way parts are easier to come by and cheaper! The flathead has been pulled and a fresh 318 with new cam, lifters, Edelbrock Performer intake, Edelbrock 600 CFM carb, electronic ignition, all new fuel system with stainless braid and AN fittings, chrome high amp alternator, Lokar throttle and tranny cables, Summit 18" electric fan and lots of dress up parts. The tranny is a heavily beefed up 727 with Koleen steel clutches, kevlar bands, Mopar Performance 2500 stall torque converter and chrome deep pan. The rear axle was swapped for an 8 3/4 Power-Lock sure grip with 3.23 gears. I reversed the e-brake cable so it would run on the passenger side and had a custom cable fabricated to use the 54 pull handle. I've also added power steering with a Flaming River polished column and custom chrome steering wheel, upgraded to front disc brakes (AAJ Brakes), and other odds and ends. This will give the ol' gal some growl when I drive her around. More to follow!

October 2006 Sale Pictures - The 54 Hot Rod!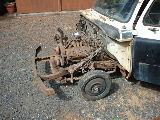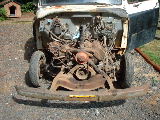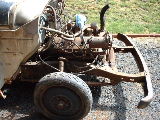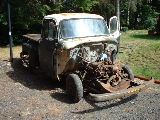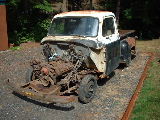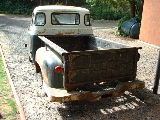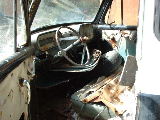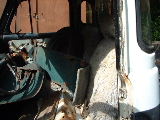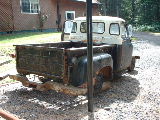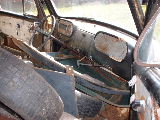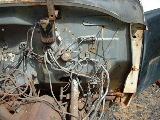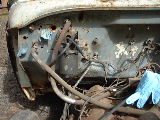 July 2003 Update (Sorry it's taken so long!!) Getting Ready For Paint.




August 2002 Update (IT RUNS!!!!! BUT NOT FAST! Now for body work and paint!)





May/June 2002 Update (Almost ready for the test run!)














The April 2002 Update (It's Getting Closer!)




The March 2002 Update (Bad Flash!)



What it looked like when I bought it, starting with the motor (1950 P20 218 engine)